Описание
A Crazy Week For AI tools
MidJourney Adds Inpainting: https://www.futuretools.io/news/midjo…
2. Inpainting Example 1: https://twitter.com/mreflow/status/16…
3. Inpainting Example 2: https://twitter.com/javilopen/status/…
4. MidJourney Updates: https://twitter.com/saana_ai/status/1…
5. Ideogram AI: https://ideogram.ai/launch
6. Leonardo Update: https://twitter.com/LeonardoAi_/statu…
7. Microsoft AI in Paint: https://www.windowscentral.com/softwa…
8. Scenario & Unity: https://twitter.com/emmanuel_2m/statu…
9. AI-generated art cannot be copyrighted: https://www.theverge.com/2023/8/19/23…
10. 2023 AI Trends for Marketers: YouTube and Music: https://blog.youtube/inside-youtube/p…
11. YouTube hum to identify songs: https://techcrunch.com/2023/08/23/you…
YouTube announced a new experiment on Android devices that determines a song via humming — which seems like a major step up from Apple's music recognition app Shazam.
As noted on YouTube's support page, the video-sharing platform is testing a search-by-song capability on the Android version of the app that allows users to figure out a song on YouTube by humming, singing or recording a song.
Users who have access to the experiment can toggle from YouTube voice search to the new song search feature and hum, sing or record a song for three or more seconds. The platform then identifies the tune and directs the user to relevant YouTube videos featuring the searched song, whether that be the official music video, user-generated content or Shorts.
12. ElevenLabs Multilingual v2: https://elevenlabs.io/blog/multilingu…
13. Bringing the world closer together with a foundational multimodal model for speech translation. Meta speech translation: https://ai.meta.com/blog/seamless-m4t/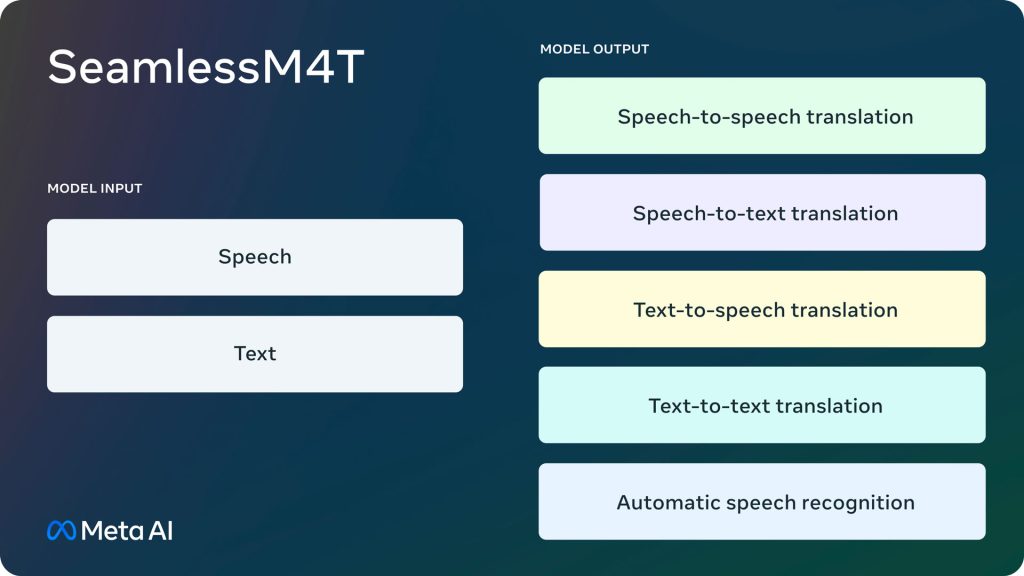 The world we live in has never been more interconnected—the global proliferation of the internet, mobile devices, social media, and communication platforms gives people access to more multilingual content than ever before. In such a context, having an on-demand ability to communicate and understand information in any language becomes increasingly important. While such a capability has long been dreamed of in science fiction, AI is on the verge of bringing this vision into technical reality.
14. GPT-3.5 Turbo fine-tuning and API updates: https://openai.com/blog/gpt-3-5-turbo…
15. Rachel Woods on Fine-Tuning: https://twitter.com/rachel_l_woods/st…
16. Potential NYT lawsuit could force OpenAI to wipe ChatGPT and start over. Wipe ChatGPT and start over: https://arstechnica.com/tech-policy/2…
17. Nvidia just made $6 billion in pure profit over the AI boom. Nvidia Q2 2024: https://www.theverge.com/2023/8/23/22…
Nvidia is forecasting revenue of $16 billion next quarter, yet another leap due to AI. "We expect sequential growth to be driven largely by data center," says Nvidia CFO Colette Kress on the earnings call.
18. Meta confirms AI 'off-switch' incoming to Facebook, Instagram in Europe. Meta AI 'off-switch': https://techcrunch.com/2023/08/22/met…
19. Introducing Code Llama, a state-of-the-art large language model for coding. Code Llama: https://ai.meta.com/blog/code-llama-l…
20. SafeCoder is built with security and privacy as core principles — code never leaves the VPC during training or inference. SafeCoder: https://huggingface.co/blog/safecoder…
21. Hugging Face Raise: https://twitter.com/ClementDelangue/s…
22. Microsoft and Epic expand AI collaboration to accelerate generative AI's impact in healthcare, addressing the industry's most pressing needs: https://blogs.microsoft.com/blog/2023…
23. AI Helps Woman Speak: https://engineering.berkeley.edu/news…
24. Outro music generated by Mubert https://mubert.com/render
А вот это интересно. Можно музыку генерировать по своему желанию. Главное описать словами )